Another great job Maryanne and Jerry - Sorry we had to miss this year, but enjoy the information you compile and forward to class members.
Barbara and Jack Coleman
From: "Bill Galloway" <wgalloway001@rochester.rr.com>
Date: Tue, 14 Sep 2010
Hi Maryanne!
We are glad everyone had a great time. Keep up the good work on keeping us informed.
Bev and Bill
From: JAMES K CONNORS <jameskconnors@bellsouth.net>
Date: Tue, 14 Sep 2010
Maryanne
Thanks for the information and the Pics and all the hard work.
Who are those folks?
jim connors
From: Catherine Lovely <c.a.lovely@gmail.com>
Date: Tue, 14 Sep 2010
Hi Maryanne,
Jerry and I thought the Reunion was extremely well done and beautiful. The weather cooperated with a wonderful day on the Hudson River with all the pretty boats. Everyone did thinkit was all very special.
Thank you and the Burns for doing such a great job.
I just happened to acquire this email which may help you. This is an email for James Krege: nanpop29@yahoo.com
See you next time.
Cathy and Jerry Lovely
From: Joan Cooley <jcarpy52@yahoo.com>
Date: Tue, 14 Sep 2010
You did it again!! We sure did have a great time. YOU had a wonderful committee. I don't know how it was all accomplished , but many thanks for another good time at the Burg! Joan & Bill Cooley
From: Patricia Flowers <dazzeymae@hotmail.com>
Date: Tue, 14 Sep 2010
This was truly a great weekend. I'm so very glad that I made the drive across the state and that you tolerated me and my nonsense about the money. Of course I was really waiting to see if I could get my surgery quicker but thats not any excuse for my being so inconsiderate. Thanks again for putting together such a wonderful event. I'm sure its a lot of hard work and a lot of time. The pictures are great. I really enjoy them, even though I look like the witch of the west. Thanks again. Pat Sheer Flowers


From: "Leona Flynn" <jflynn16@nycap.rr.com>
Date: Wed, 15 Sep 2010 11:33:11 -0400
Sorry Leona and I couldn't make the reunion.
Leona's mother died and the Memorial Service was held on Saturday 9/11. Our children and grandchildren from Maryland and Columbus were staying with us for the weekend.
Hopefully we'll be able to make it next time. Looks like everyone enjoyed themselves. The pictures were great.
Sincerely,
Jim & Leona Flynn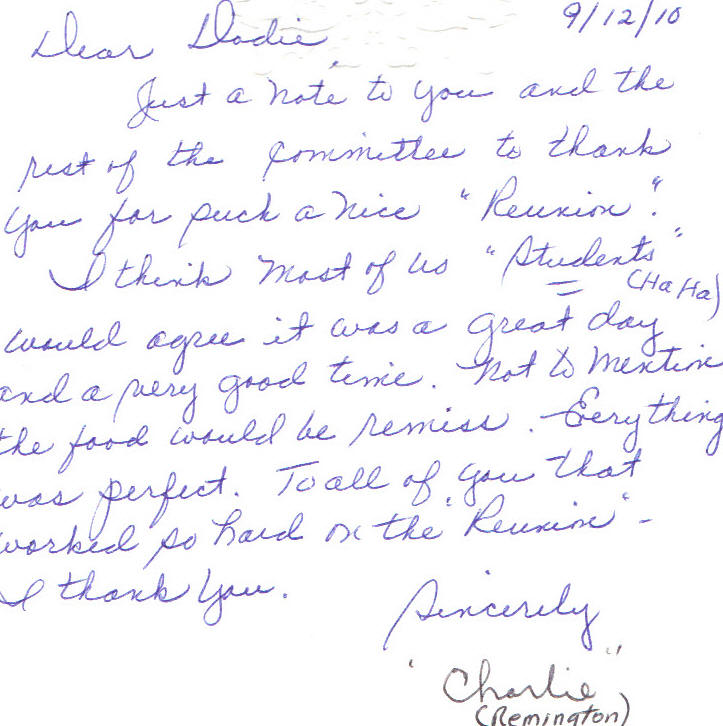 From: <cwhalen4@nycap.rr.com>
Date: Wed, 15 Sep 2010 10:04:04 -0400
maryanne the reunion was a great success, a lot of fun and I cannot wait for the next THANKS Carol
From: Dick Rogers [mailto:rweagle750@embarqmail.com]
Sent: Thursday, September 16, 2010 6:56 AM
Hi,
Although we couldn't make this re-union it was great to see all the pictures, etc. Keep up the good work! Hopefully we can make the next one!
Sincerely, Dick & LuAnn Rogers
From: "Joyce Raymond" <Joyce.Raymond@cooleygroupusa.com>
Date: Fri, 17 Sep 2010 16:24:17
Thank you so much for sharing your pictures. I"ve spoken with 3 of my friends that were lucky enough to go and every one said what a good time it was. Friday night and Saturday.. Nothing but praises for the job you did. I'm sorry I missed it but could enjoy the pictures. So let me add my thanks with all the others, Joyce Raymond
From: "Lola Emery" <meyer324@gmail.com>
Date: Fri, 17 Sep 2010 21:33:59 -0400
Just a note to say what a great job you and the committee did. Really a fun time. Lola Emery '52